Meditation and Memorial Garden
The Meditation and Memorial Garden is dedicated to the memory of Alan S. Appelbaum, Ph.D., a telephone volunteer with the BRCIC for 13 years. When he died suddenly in 1994, his mother, Mrs. Mareaner Appelbaum, made a donation to name the Garden in her son's memory. The dream began to take root at that time.

In 2018, the BRCIC's board of directors voted to redesign and relocate the Garden to our current location, so that it might continue to provide a place for clients, members, volunteers, supporters, and staff to remember, honor, meditate, and alleviate stress. A place of growth, rebirth, and renewal.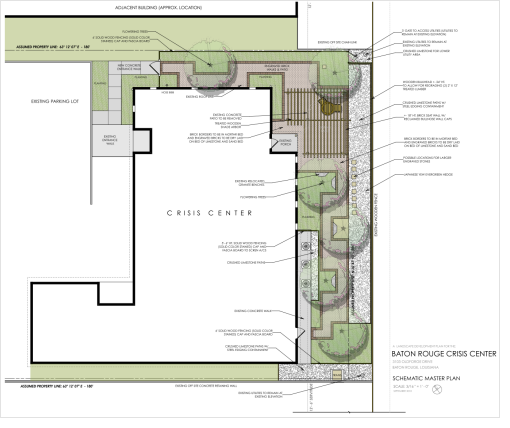 The Garden was re-designed by landscape architect Craig Rhodes to reflect the metaphor of how grief is non-linear and has zigs and zags; but even in a crooked pathway, beauty can be found. This metaphoric design was realized in the Garden by Robert S. Seidenglanz, landscape architect and owner of RS Outdoors, LLC. (Click here to read more about building the Garden.)

The Garden now features wheelchair access, seating, a wooden arbor, backlighting at night, and plenty of space for private contemplation or gathering in small groups. Plantings include miscanthus, elephant ear, Japanese yew evergreen hedge, and flowering trees. Concrete walkways blend seamlessly with a crushed limestone path with steel edging.

Engraved bricks are laid dry on a limestone/sand bed encased in a mortared brick border; and a site is planned for larger granite memorials. Learn how to donate inscribed brick pavers, concrete paving plaques, or special features such as trees or plantings to The Garden.
The Garden as Metaphor



When you enter this garden you are invited to metaphorically experience a grief journey . . .

this is not a linear process, the journey isn't straight or predictable, it has zigs and zags but it doesn't mean you cannot find beauty even in those zigs and zags.

Many see this early part of the journey as being all alone and not understood by others . . .
Much of your time is focused on the loved one who has died . . .
However those who find help, turn a corner in their grief and are welcomed by those who are just a little further down this path . . . there is support and understanding for those questions that cannot find an answer . . .
This part of your journey is where you begin to heal as a survivor and begin to know and trust that you are not alone . . .
Spend the time in this support to tell, feel and heal from this indescribable grief and when ready continue on your unique pathway . . .
Resting where and when you can, practicing self care to finish your journey . . .
. . .while returning for support whenever you need that gift.
Grief doesn't keep office hours and neither does our garden . . .
Your pathway is lit when needed and available always.

Click here or on the image above to make an online donation of a brick paver, granite paving plaque, or special feature item to The Garden.

If you prefer to donate by mail, click here to download and print a form to send with your check.
Please note: The BRCIC website is not intended to provide help in a crisis. If you are feeling suicidal or need help for yourself or someone you know, please consult IASP's Suicide Prevention Resources to find a crisis center anywhere in the world. In the US, call toll-free 1-800-273-TALK (8255) for a free suicide prevention service or visit SuicidePreventionLifeline.org.