Recurring Events
Survivors of Suicide Support Group


Every Tuesday, 6:30 pm to 8:00 pm

Please visit our support services page to learn more about scheduling an assessment or if you have questions.
Upcoming Events
Kendra Scott Promotion Benefiting BRCIC
March 19 & 20, 2022
Interested in purchasing some beautiful jewelry from Kendra Scott? On March 19th and 20th, any purchases you make online are eligible to give 20% back to the BRCIC! Just enter code GIVEBACK-BOUMY at checkout.
The 12th Annual Circle of Support Walk
April 9, 2022, 8 a.m to 10:30 a.m. | LSU Greek Amphitheater
This year's Walk will take place on April 9 from 8:00 a.m. - 10:30 a.m. at the Greek Amphitheater on the LSU campus.

There is no registration fee, but donations will be accepted at the event. Visit the Circle of Support page to support one of the teams who are walking in honor of a loved one.

The Circle of Support Walk is a community partnership between the LSU School of Social Work graduate students and the BRCIC. For more information, contact adminservices@brcic.org.
News Items
Magellan Cares Foundation Makes $2,500 Donation to BRCIC
We are Filled with gratitude and happy to announce that the Magellan Cares Foundation chose BRCIC as a non-profit that provides services in line with their mission (to improve lives and communities they serve) and delivered us a $2,500.00 donation on August 12, 2021.

Magellan of Louisiana provides services to at risk youths(ages 5-20) and their families through their Coordinated System of Care. Crisis Intervention is one of the behavioral health services offered to their enrolled members.

Pictured front left to right: Paula R. Brooks, Marketing Communications Manager — Magellan of Louisiana and Patti M. Clement, BRCIC — Chief Financial Officer; and back row: Alan Berteau — BRCIC Board President.
Andy and Angie Dixon Honored by National Association of Social Workers


We would like to give a huge shout out to our Friends of BRCIC, Andy and Angie Dixon, for being named Public Citizens of the Year by the Louisiana Chapter of the National Association of Social Workers (NASW-LA).

NASW-LA honors an outstanding member(s) of the community whose accomplishments exemplify the values and mission of professional social work. The award recipient is not a social worker. Candidates demonstrate leadership qualities in the field of human services and exemplify personal and professional integrity in their effort to help people.

In Angie's own words, "Our hopes are that this award will bring more people to become Applied Suicide Intervention Skills Training (ASIST) certified."

For more about Andy and Angie and their great work to eradicate suicide check out pages 35, 36 and 37 at the NASW-LA conference brochure.
Dr. Abadie recieves 2021 Dorothy Schenthal Leadership Award
Please join us in congratulating Dr. Abadie! The Louisiana Chapter of the National Association of Social Workers recently named Dr. Margo Abadie as the recipient of the 2021 Dorothy Schenthal Leadership Award.

Since 1984, the award has been given to an outstanding NASW-LA leader. In addition to being a member in good standing of the Louisiana Chapter of the National Association of Social Workers, a candidate must also have provided outstanding leadership in the field of social work.

We are so proud of her and all that she has done for BRCIC! She is an incredible leader and role model for all social workers and leaves the world a little better wherever she goes.

For more details about this prestigious award and all that Dr. Abadie has done, check out pages 27-29 on the NASW-LA conference brochure.
NTSC Receives 2021 Worthy Cause Grant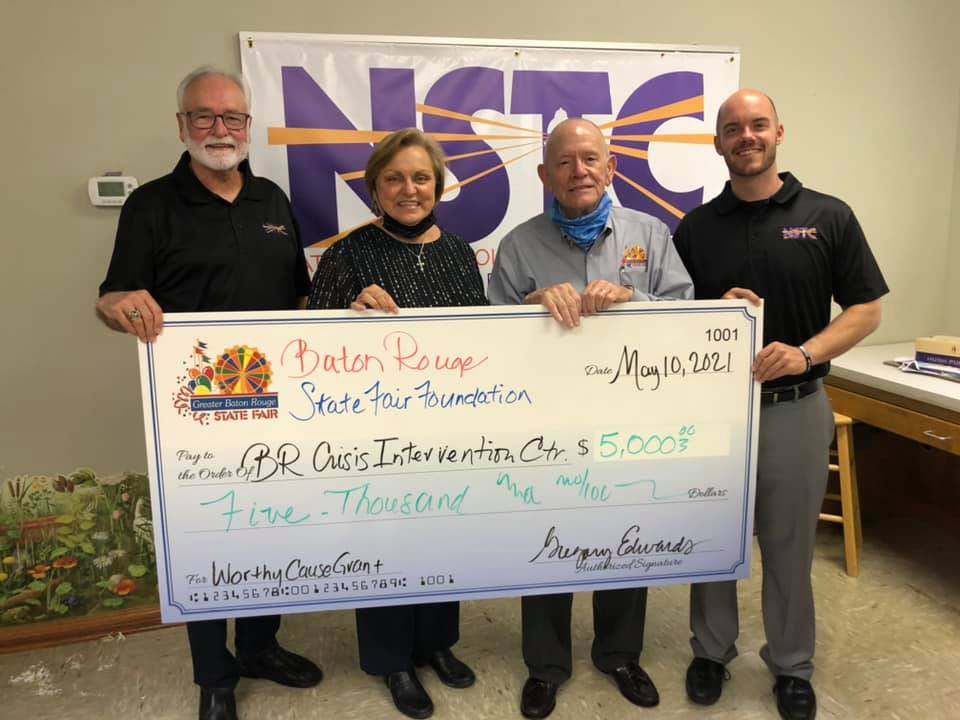 The Baton Rouge State Fair Foundation Chairman stopped by with gifts on 5/10/21! They presented us with a 2021 Worthy Cause Grant to help us provide cutting edge suicide prevention intervention training called the Collaborative Assessment and Management of Suicide (CAMS) to 20 mental health practitioners in the greater Baton Rouge area.

Pictured are Dr. Frank Campbell (Co-Chair of NSTC), Patti Clement (BRCIC CFO), State Fair Foundation Chair Greg Edwards, and Dr. Raymond Tucker (Co-Chair of NSTC).
AAS21 Citizen Scientist Student Award
Please join us in congratulating one of our dedicated faculty members, Emma Moscardini, M.A., B.A., Doctoral candidate in Clinical Psychology, LSU! She was recently chosen as the recipient of the Citizen Scientist Student Award by the American Association of Suicidology. We are proud and fortunate to have Emma involved at BRCIC!

Emma is a third-year graduate student in the Mitigation of Suicidal Behaviors (MOSB) Lab at LSU under the supervision of Dr. Raymond P. Tucker. She grew up in Safety Harbor, Florida and graduated with her B.S. in psychology from the University of Florida. As an undergraduate, she volunteered at a suicide hotline doing emergency mobile outreach in Alachua County, and she continues to volunteer there as a member of their training team. She also volunteers at the National Suicidology Training Center in Baton Rouge, LA providing community trainings on topics related to suicide prevention.

Emma is interested in researching theoretical models of suicidal thoughts and behaviors. She is also broadly interested in mindfulness and the ways in which an individual's life experiences impact their perceptions of life meaning. In her free time, Emma enjoys running, playing guitar (poorly), and travelling.
10-Digit Dialing and the Suicide Prevention Lifeline


On March 3, 2021 The Advocate detailed how the upcoming switch to 10-digit dialing in some locations clears the way for the National Suicide Prevention Lifeline to use 988 as its three-digit number. Dr. Ray Tucker, co-director of NSTC, weighs in on the importance of making the Lifeline more accessible to people when they need it the most. Read the article here.
Please note: The BRCIC website is not intended to provide help in a crisis. If you are feeling suicidal or need help for yourself or someone you know, please consult IASP's Suicide Prevention Resources to find a crisis center anywhere in the world. In the US, call toll-free 1-800-273-TALK (8255) for a free suicide prevention service or visit SuicidePreventionLifeline.org.